So we celebrated our anniversary on Wednesday the 23rd! It was really fun! It kind of felt like we got to have our anniversary twice as both days were filled with extra doses of love and admiration! We watched our wedding video, made sushi, and looked through this years photos to decided which ones we want to put in our album (all of which are yearly traditions)! We also decided that we wanted to start a new tradition since we have a fireplace now! We want to build our first fire on our anniversary! So we did that this year too, which of course consisted of Jon having to cut wood! It was so much fun and oh so toasty warm!!!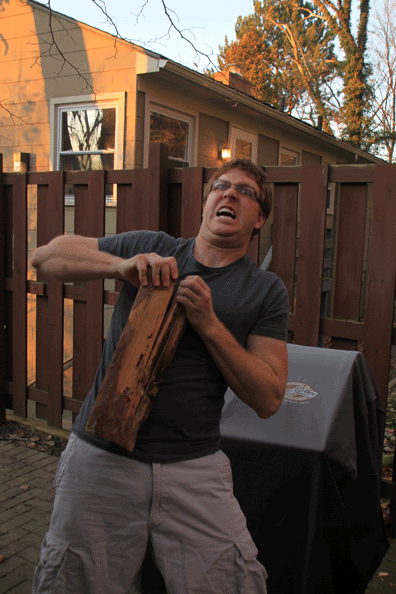 Ripping apart a log
The many funny faces of my husband!
Before we started the fire we found these little ash-y pawprints on the hearth, maybe we shouldn't have left the fireplace doors open. :)
Our first fire! See the little bits of green from the newspaper? We decided that bits of Floo Powder must have gotten on the paper.
It was a really wonderful day and we really enjoyed just spending time with each other!
For Thanksgiving this year we stayed at home and celebrated just the two of us! The only other time we've done that was the year we got married because we were on our honeymoon!! This year we prepared lots of delicious food and tried some fabulous new recipes, among those were a pretty fantastic gravy made by yours truly and an awesome pecan pie made by my talented husband!! We always have a lot of fun cooking together and we definitely enjoyed the holiday!!